Towards a more sustainable and liveable Singapore
This article is contributed by the Building and Construction Authority of Singapore (BCA).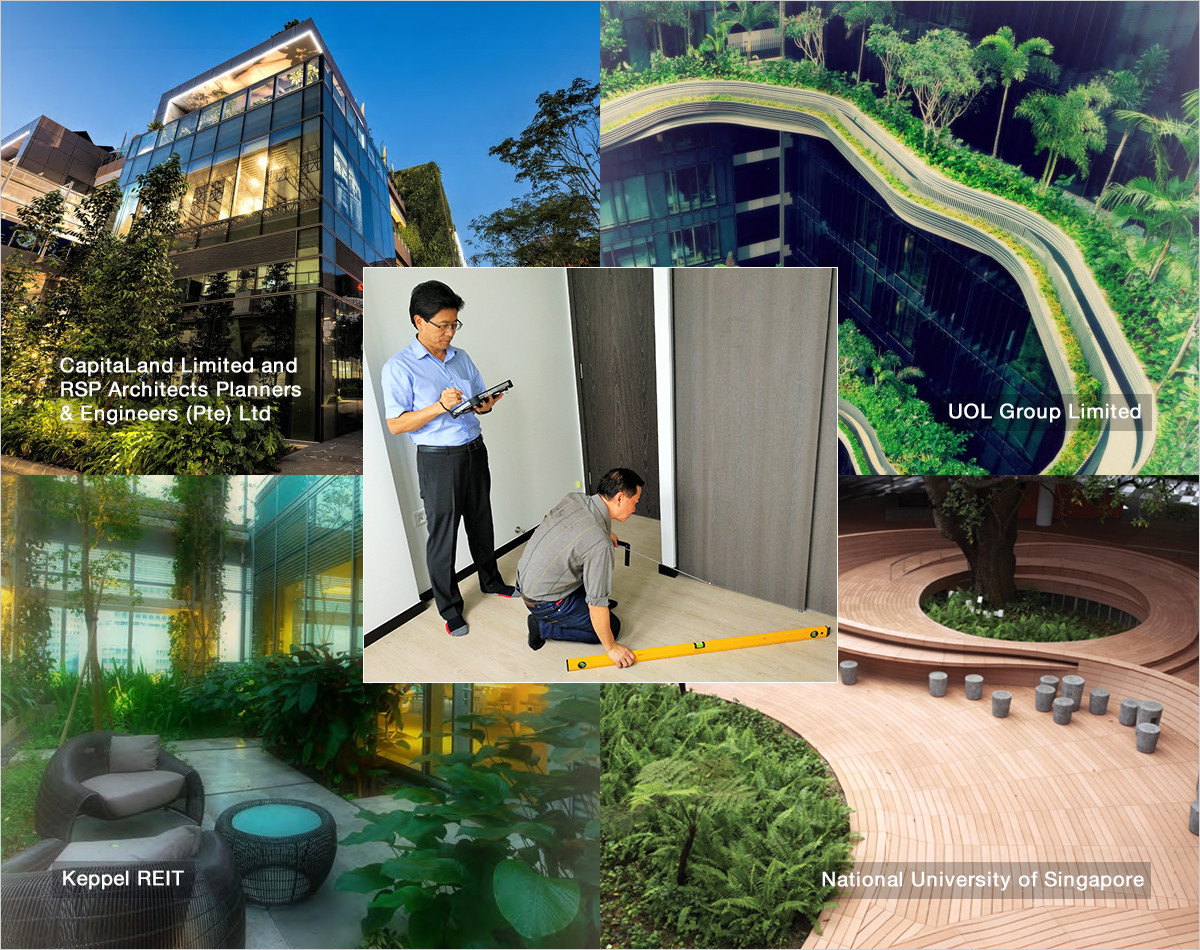 Over the years, Singapore has made its mark globally for sustainability and liveable buildings. The Building and Construction Authority (BCA) has various schemes that advocate for a greener and more liveable Singapore for homeowners. These include the BCA Green Mark scheme, Construction Quality Assessment System (CONQUAS©), and Quality Mark for Good Workmanship scheme.
BCA Green Mark
The BCA Green Mark scheme was launched in January 2005 as an initiative to drive Singapore's construction industry towards more environment-friendly buildings. It is intended to promote sustainability in the built environment and raise environmental awareness among developers, designers, and builders when they start project conceptualisation and design, as well as during construction.
A survey conducted recently in Singapore with more than 2,200 respondents comprising homeowners, office tenants, property agents, facility managers, and developers found that a majority of them understand the benefits associated with green buildings.
Commissioned by BCA, the survey found that respondents were clearly aware of the tangible and intangible benefits of green buildings, with over 90 per cent of them perceiving that green buildings result in:

The survey also found the following: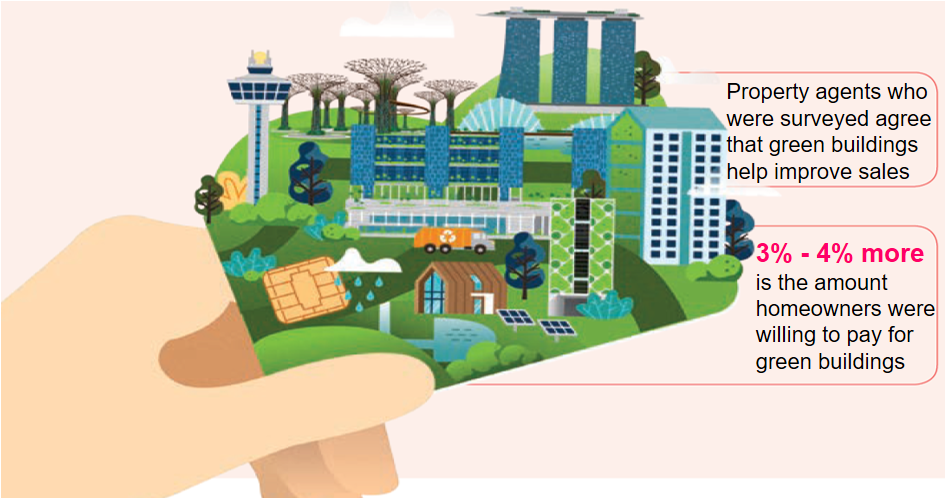 BCA Green Mark Directory
Members of public can use BCA's Green Mark directory or SLA's Onemap.sg to find out if a listed property is a Green Mark certified building.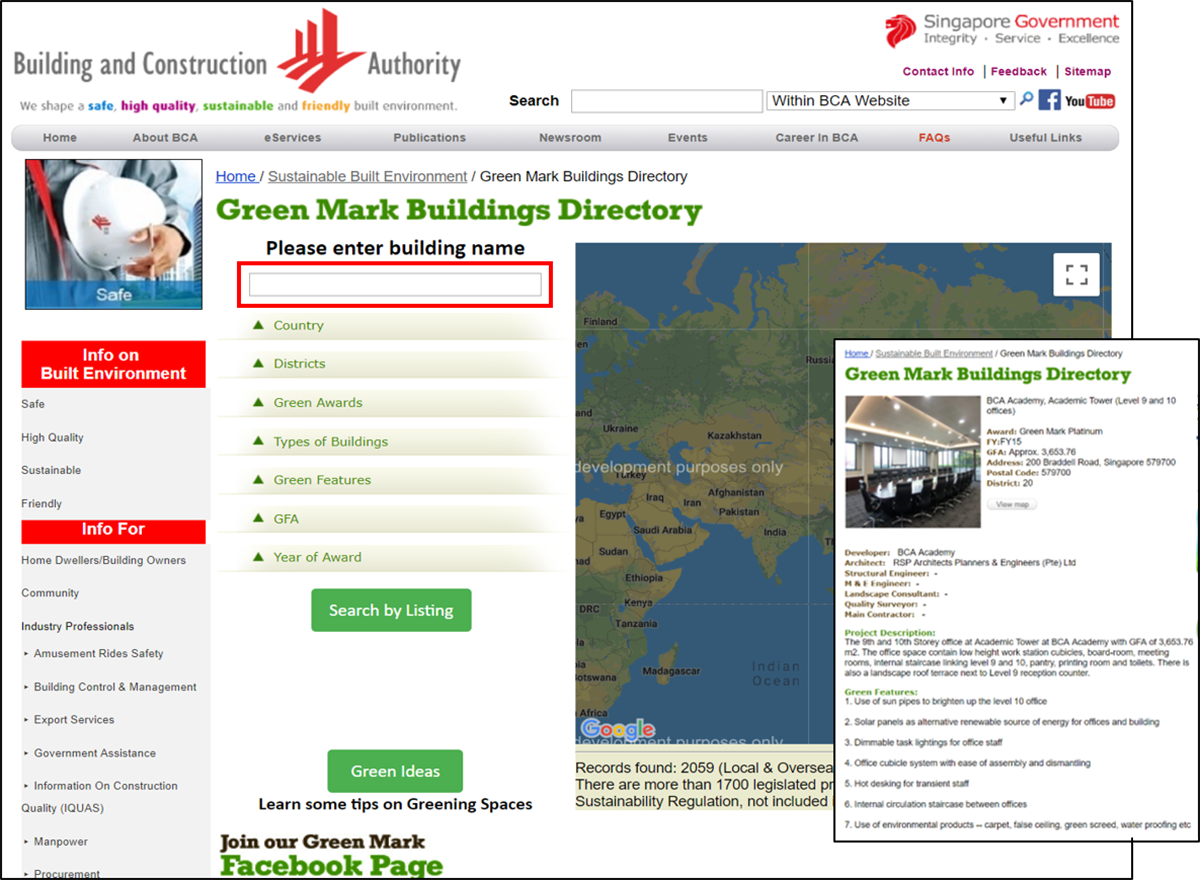 Construction Quality Assessment System (CONQUAS©)
CONQUAS© was developed by BCA in collaboration with public sector agencies and various leading industry professional bodies to objectively measure workmanship quality in new building projects.
Since its launch in 1989, more than 4,400 public and private building projects have been assessed under CONQUAS©. The industry average CONQUAS© score has improved steadily from 67.9 in 1989 to 88.9 in 2018, reflecting a rise in quality standard over the years.
CONQUAS© is now the de facto national quality yardstick for the industry, widely used by developers and builders to benchmark the quality of their building projects. A survey commissioned by BCA validates the benefits of CONQUAS©, and the survey findings are as follows: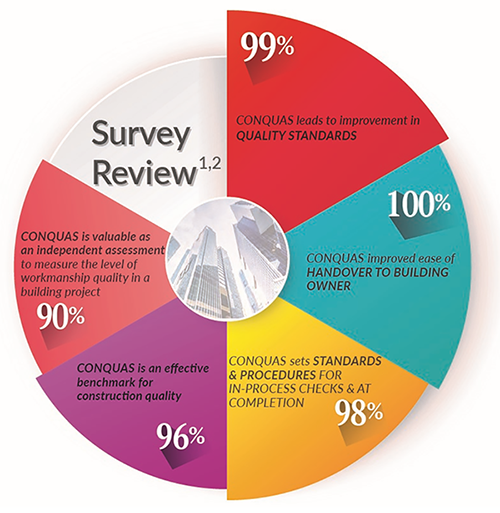 Quality Mark for Good Workmanship scheme
The Quality Mark scheme was launched in 2002 to help developers meet rising expectations of homeowners for better quality homes.
Under this scheme, BCA assesses every unit in newly-completed private residential projects. Quality Mark certificates are issued to individual units that have achieved the specified workmanship quality standards.
To date, developers have committed about 97,000 dwelling units to the Quality Mark assessment. Members of public can search and compare the quality performances of developers and builders, and make a more informed decision when buying a home.
The benefits of the Quality Mark scheme include:
An independent and unbiased assessment by a third party.
Ensuring that the project delivers consistent workmanship standards to meet homeowners' expectations. This in turn would minimise inconvenience to homeowners and result in higher customer satisfaction.
Overall satisfaction with quality of workmanship
A survey commissioned by BCA in 2015 among homeowners across 41 private residential properties covering 11,098 dwelling units found that:
Quality Mark properties had close to 50 per cent fewer defects than non-Quality Mark projects.
69 per cent of home buyers are willing to top up for a Quality Mark certified home.
Homeowners are prepared to top up a mean and median amount of $10,000 and $22,476 respectively for a Quality Mark home.
The benefits of Quality Mark1 are also validated by the industry in another survey commissioned by BCA with the following findings: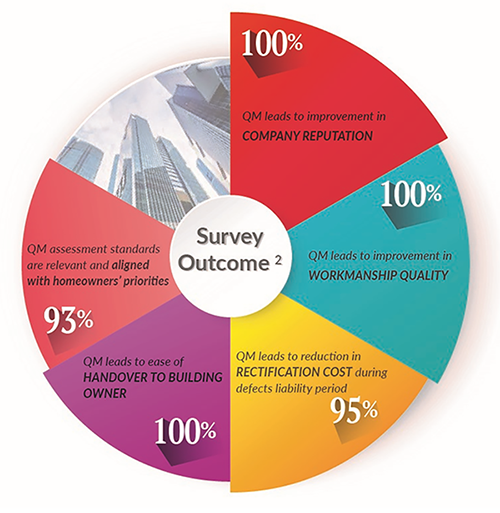 Sharing sessions for property agents
Beyond location, homeowners today are also looking to incorporate sustainability and quality in their daily lives.
Property agencies can contact BCA to conduct complimentary sharing sessions for their property agents to get an overview of Singapore's green building and quality home journey, as well as the BCA Green Mark, CONQUAS©, and Quality Mark schemes. BCA will also share on the key features and benefits of green buildings and quality homes.
More than 800 property agents and prospects have attended BCA's sharing sessions so far.

If your property agency would like BCA to give a complimentary sharing session for your agents, please contact the following:
For BCA Green Mark:
For BCA Quality Mark & CONQUAS©:
You can also follow BCA on Facebook and LinkedIn to keep abreast of the latest news and information related to built environment topics such as building sustainability and quality.
Sharpening your knowledge on green buildings
The Singapore Estate Agents Association (SEAA) conducts an "Introductory to Green Buildings in Singapore" course to inform property agents of the meaningful differentiation of buildings in the real estate market. Through this course, industry practitioners can learn more about the following:
Understand the definition of green buildings and its benefits;
Understand CONQUAS© and Quality Mark, and their benefits;
Deepen knowledge on BCA's policies and regulations related to real estate agency work and property transactions; and
Be well-informed and prepared to advise clients on BCA's policies and regulations accordingly.
Do check out SEAA's website for more information on the course.
BCA champions the development of an excellent built environment for Singapore. BCA's mission is to shape a safe, high quality, sustainable and friendly built environment, as these are four key elements where BCA has a significant influence. In doing so, it aims to differentiate Singapore's built environment from those of other cities and contribute to a better quality of life for everyone in Singapore. Hence, its vision is to have "a future ready built environment for Singapore". Together with its education arm, the BCA Academy, BCA works closely with its industry partners to develop skills and expertise that help shape a future-ready built environment for Singapore. For more information, visit BCA's website.