Engage only "legit" property agents
Picture this scenario.
Janet receives a flyer one day in her mailbox from a property agent who says he has clients looking to rent a room in her area. She has a room to spare in her flat and thinks this ad came at just the right time for her to earn some rental income. She decides to contact the agent to find out more.
Or this.
David received a text message from an agent who said that she charges "only a token fee way below market commission rates" for her services. David has been thinking about selling his property for some time, and is attracted by the competitive fees. Like Janet, he too decides to give the agent a call.
Some of us may find ourselves in similar situations as Janet and David when we want to buy, sell, or rent a home.
All agents must be registered with CEA
Property agents can certainly help us achieve the best possible outcomes in our transactions. But before engaging one, do ensure that the agent you choose is registered with the Council for Estate Agencies (CEA).
In Singapore, it is a requirement for all property agents to be registered with us through their respective property agencies. It is an offence for any individual to carry out estate agency work without a valid registration.
How to check if your property agent is registered
This can be done in four easy steps.
Step 1: Ask your agent for his or her CEA registration number. All registered property agents have a unique CEA registration number. This has to be displayed with their names on their estate agent cards which must be worn when they meet clients, and shown on any advertisements that they put out.
Step 2: Go to CEA's Public Register on our website or download the CEA@SG mobile app from the Apple App Store and Google Play.
Access the Public Register on our homepage via these two navigation options.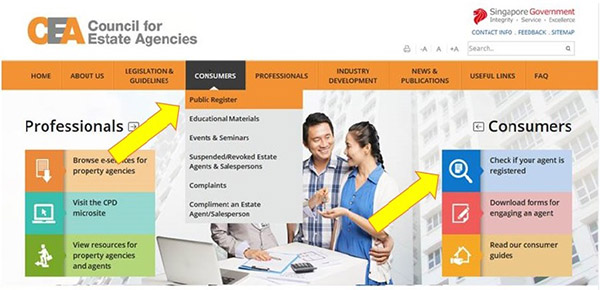 Step 3: Search for the agent using the registration number. You can also search for the agent by name or mobile number.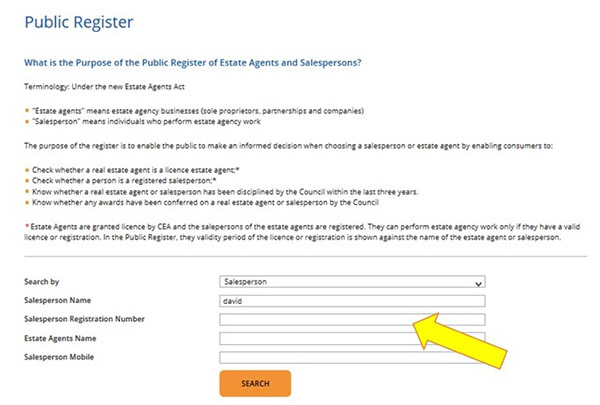 Step 4: Tally the agent's details given to you with the profile on the Public Register. The Register will list information such as the agent's name, CEA registration number, validity of registration period, and property agency. Check the profile photograph in Public Register against the actual person. Awards received as well as past disciplinary action will also be reflected.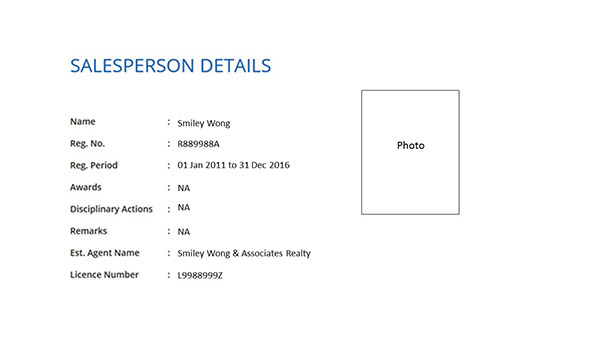 Check out our latest consumer brochure for more information on engaging a registered property agent. Learn about your agent's responsibilities and get useful tips on how you can work more effectively with him or her to achieve the best outcome in your property transaction.
back to cover page